Descripción del producto
Hot sale best price 8kw small portable mobile generator light tower
FZMT-1000B trailer light tower has a hydraulic mast and metal halide lighting technology, making it suitable for a wide variety of applications. This unit is compact in size, making it easy to transport to the job site and to maneuver into position to fit your needs.        Hot sale best price 8kw small portable mobile generator light tower

For municipal, highway bridge, port, mine, construction sector construction and other field work at night lighting. And also can be used for night repair, disaster scene lighting.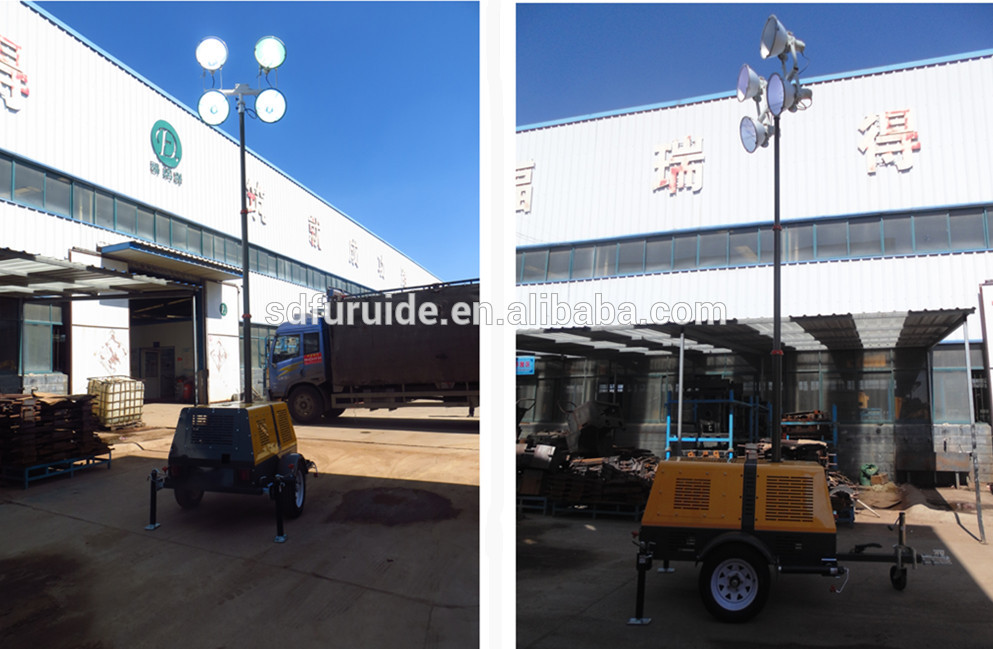 4x1000W metal halide lamps.

6 meter or 9 meter safe and quick mast.

Kipor diesel generator or Honda gasoline generator, high performance.

Large service dimension for easy maintenance.

Easy to maneuver with trailer types.

   Hot sale best price 8kw small portable mobile generator light tower



Trailer Light Tower FZMT-1000B
Model

FZMT-1000B

Generator

Honda Gasoline/Kipor Diesel Generator

Rated Power

5.0kw

Anti-slope

<10°

Rated Voltage

220V

Anti-wind

<6°

Continuous working time (hour)

9hr

Walk type

Trailer Type

Oil Tank

25L/16L

Package size

Main machine

2900*1500*1300mm

Power*lamp

1000W*4

Stanchion Lamp frame

3 or 4 sections elevating

Lamp

600*600*480mm*4

Elevating height

1800-6000mm/9000mm

Net weight(kg)

550kg
   5KW Trailer Light Tower / Mobile Light Tower /5KW Gasoline Generator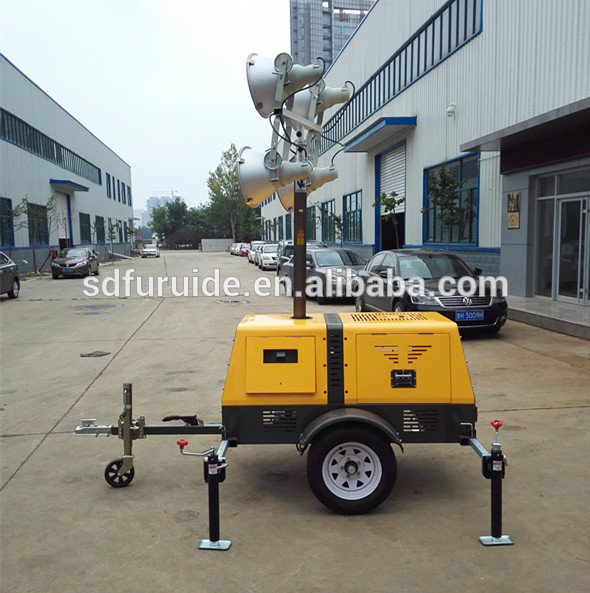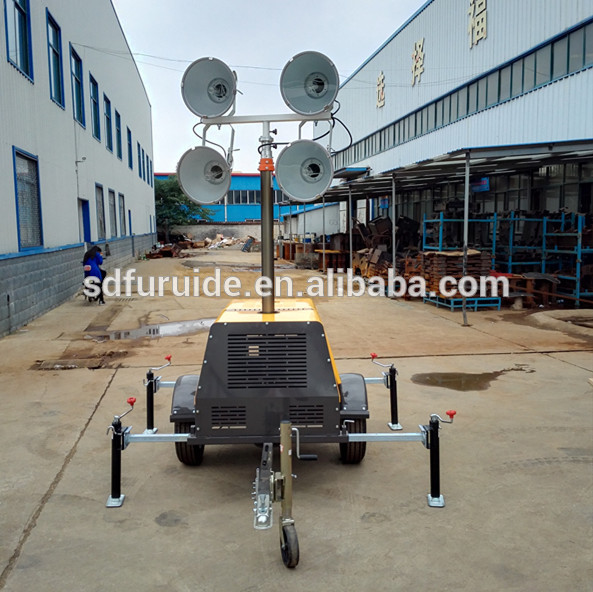 Hydraulic operated portable Diesel Mobile Light Tower 4x1000W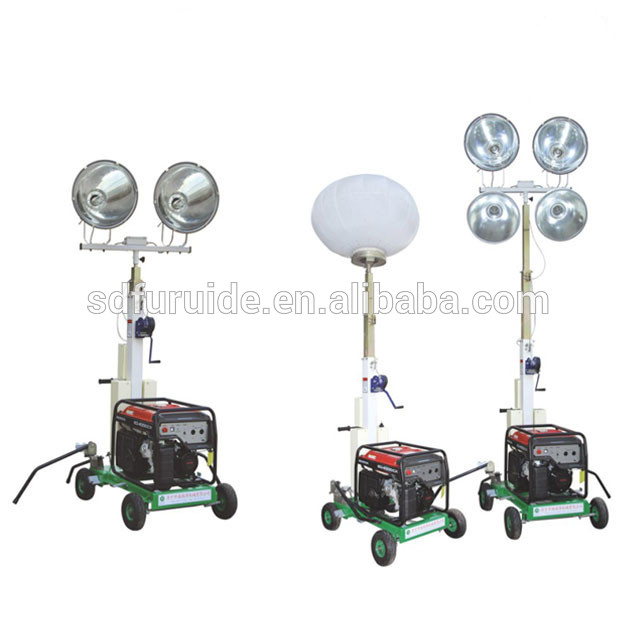 Contact Information:
Andrey Luan

Mobile Phone: +86 1355185855

Fax: +86-537 2518866

Skype: ly2988136

Email:   andrey

(at)

sdfrd.cn

Address: NO.6 of Kaixuan Road,high-tech Zone, Jining, Shandong, China

   Hot sale best price 8kw small portable mobile generator light tower
Jining Furuide Machinery Manufacturing Co., Ltd.
Jining Furuide Machinery Manufacturing CO., LTD, establecida en 2008, es un fabricante profesional que se dedica a la investigación, el desarrollo, la producción, la venta y el servicio de rodillos compactadores vibratorios, soleras de hormigón, torres de iluminación portátiles, paletas eléctricas, cortadoras de concreto y otras construcciones ligeras. máquinas. Estamos ubicados en la ciudad natal de Confucio y en la ciudad de Mencius Jining de la provincia de Shandong, con un cómodo acceso al transporte. Cubre 40 acres de superficie, más de 20.000 m² de taller de producción. Dedicados al estricto control de calidad y al atento servicio al cliente, nuestros empleados experimentados están siempre disponibles para hablar sobre sus requisitos y garantizar la plena satisfacción del cliente. En los últimos años, nuestra compañía ha introducido una serie de equipos avanzados que incluyen solera láser de concreto y máquina de llenado de grietas. Además, hemos obtenido certificados de CE, ISO 9 0 0 1 y 10 patentes nacionales de rodillos compactadores vibratorios. Se venden bien en todas las ciudades y provincias de China y nuestros productos también se exportan a clientes en países y regiones como Corea del Sur. Estados Unidos, Europa, Sudeste Asiático, África y Sudamérica. También damos la bienvenida a pedidos de OEM y ODM. Si selecciona un producto actual de nuestro catálogo o busca asistencia de ingeniería para su aplicación, puede hablar con nuestro centro de servicio al cliente sobre sus requisitos de abastecimiento. Esperamos establecer relaciones comerciales exitosas con nuevos clientes en todo el mundo en un futuro próximo.
Nombre de empresa: Jining Furuide Machinery Manufacturing Co., Ltd.
Representante: Daoguo Liu
Producto / Servicio: Rodillo vibratorio , Torre de luz , Solera laser , Máquina de sellado de grietas de asfalto , Cortador de carreteras , Paleta eléctrica
Capital (Million US $): 26000000RMB
Año de fundación: 2008
Facturación Annual: US$1 Million - US$2.5 Million
Porcentaje de exportación: 21% - 30%
Volumen Total de Compras anual (Millones de dólares EE.UU.): Below US$1 Million
Número de Líneas de Producción: 10
Número de empleados para investigación y desarrollo: 11 -20 People
Número de empleados para control de calidad: 5 -10 People
Servicio del OEM proporcionado: yes
Tamaño de la fábrica (metros cuadrados): 5,000-10,000 square meters
Ubicación de la fábrica: South of Hongguang Road, High-tech Zone, Jining City, Shandong Province of China
Persona de Contacto: Mr. Tyler Li
Número de Teléfono: 86-537-2269799